Hole-In-One Care
Walter 'Mack' and Gertrude 'Jonnie' Day: 1923-2011 and 1924-2014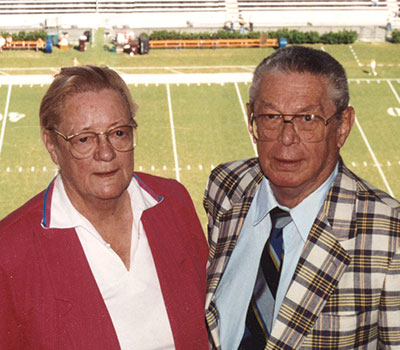 Gertrude 'Jonnie' and Walter 'Mack' Day
Although they lived hundreds of miles away in Palm City, Florida, Mack and Jonnie only trusted Haik and others at the Hamilton Eye Institute with their eye care and overall health.
Caring for their health remotely from Memphis, Haik went the extra mile. And it was noticed by the Days, who became staunch supporters of the Hamilton Eye Institute and golf—their first love—at UT Knoxville. Even after the death of Mack, Haik's coordinator, Blanca Phillips, became Jonnie's advocate as she maneuvered the health care system to secure home health aids in her final years.
She still had her independence as she lost her sight. And that made her smile, recalls Phillips.
High-wattage smiles plastered their faces on the golf course. After all, they were really good, and they had the Westchester County New York Husband and Wife Championship Award along with hundreds of others to prove it. Even in Nassau, Bahamas, where they lived from 1960 to 1970, they sponsored many golf tournaments. When Mack wasn't on the clock as a senior-level executive with Wometco International, the Pepsi Cola bottling operation and Nassau Vending Company, he was on the fairway.
"They cared deeply about medical research," recalls Haik. "They were attentive to the world around them."
© Pentera, Inc. Planned giving content. All rights reserved.
Disclaimer