Lifetime of Loyalty to Nursing at the Health Science Center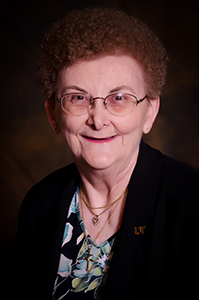 Dianne Greenhill's connection to the University of Tennessee began with her 1962 graduation from the College of Nursing (CON) at what is now known as the University of Tennessee Health Science Center (UTHSC). Following graduation, Dianne was encouraged by CON Dean Ruth Neil Murry to continue her nursing education. However, UTHSC did not have a master's program. Dianne left her position at the Memphis Shelby County Health Department to attend the University of North Carolina Chapel Hill and earned her master's degree with a double major in nursing and public health.
Dianne learned the importance of donating to UTHSC and the college through personal experience. Near the conclusion of her graduate studies, Dean Murry sent money from her discretionary fund to help with tuition, "It's not something she had to do, but it made the difference in my being able to finish school and come back to UT."
"To this day I know that if college deans don't have money to pull from in their discretionary fund, there are many needs that would not be met."
Dianne joined the faculty of UTHSC College of Nursing in 1965, and in her 40-year tenure she served as an instructor through professor, department chair, interim dean, and associate dean. She went on to earn two additional degrees: an educational specialist degree from UT Knoxville and an EdD in counseling from Memphis State University, now the University of Memphis.
She served several years as director of nursing at the Memphis and Shelby County Health Department and was a 24-year member of the United States Army Reserve Nurse Corps, from which she retired as a Colonel in 2000.
Even in her retirement, Dianne remains fully committed to the UTHSC CON. To honor this devotion, a scholarship has been created by the college in her name. She is a longtime donor through the annual giving program and generously supports several nursing scholarship endowments.
In addition to her annual giving, Dianne has personally established a bequest for the benefit of the college and is a member of the Hershel P. Wall Legacy Society because she informed the college of her decision to leave a planned gift after her lifetime.
"The UTHSC College of Nursing has been my life. I don't have children to provide for in my estate. For me, the most logical step when I die is to leave a gift to support future needs of the college."
Dianne Greenhill generously supports a number of nursing scholarship endowments, and she has also established a bequest for the UT Health Science Center College of Nursing.
© Pentera, Inc. Planned giving content. All rights reserved.
Disclaimer